Private Company Services
View this page in: Romanian
In the new 'business as usual' privately owned businesses are faced with more and more complex challenges but they can also seize important opportunities that can take them them to a new level.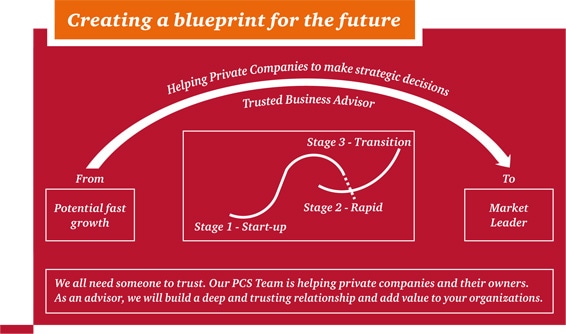 We have the first dedicated Private Company Services team in a Big Four in Romania. Our specialists have an in-depth understanding of business management as well as long-term personal objectives of entrepreneurs. Over 40% of our clients are private companies,ranging from owner-managed family business to large professionally managed-businesses. We may be big but we've built our success on developing trusted relationships and delivering solutions and ideas tailored to the needs of our clients, no matter the size.
Our Services
At PwC, we know that a successful business is more than a sum of its parts. It's about properly aligned business processes that lead to operational efficiency, well managed costs and increased profitability.
Our priority is to understand and address the specific issues and particularities of each entrepreneur from three different perspectives: business, ownership and family:
We are constantly dedicated to understanding the issues and specifics of family businesses: we carry out the global PwC Family Business Survey and we are partners of the Family Business Network;
We have extensive experience in working with local entrepreneurs and family businesses: and important percentages (40%) of our clients in Romania are entrepreneurs and family businesses;
We employ the expertise developed in working with multinational corporations and adapt it to offer the best fitted solutions for entrepreneurs and family businesses.
In this context, the main categories of services our clients employ us for are:
Strengthening/increasing corporate governance: audit,implementing financial accounting management systems,implementing internal control and audit systems, cash flow optimization, etc.;
Assistance in developing and/or implementing business plans: feasibility studies, business plans, valuation, strategy, transactions;
Assistance with operational and/or financial restructuring: financial and/or operational restructuring plans, independent business review, legal/tax optimization of groups of companies;
Assistance in developing and implementing succession plans, personal wealth management plans;
Current operations assistance: tax and legal services, advisory services, transfer pricing, etc.