Private Company Services News
 

PwC Romania celebrates the Champions in Business

[October-2013]

PwC Romania's Private Company Services (PCS) team has joined for the second time Enterprise Investors, BCR, the Triple Helix Foundation and Ziarul Financiar as partners for the 2013 edition of Campioni in Business project. The project is rewarding the most dynamic entrepreneurial companies, their success and their courage to invest and further on contribute to the development of the business environment in Romania... More

 

Servicii integrate pentru antreprenori - Scurt ghid de exit

[September-2013]

Încrederea este cuvântul cheie în orice relaţie de succes pe termen lung. Cu atât mai mult în relaţia dintre antreprenori şi consultanţi şi cu atât mai mult în momentul foarte important al deciziei de a vinde afacerea, după cum vom vedea în acest scurt ghid... More

The Academy @ PwC Romania launches video e-learning on ZFeLEARNING

[June-2013]

Ziarul Financiar launches video e-learning platform in partnership with The Academy @ PwC, a partnership built on the foundation laid by our PCS team. The ZFeLEARNING platform is addressed to individuals committed to their personal and professional development and who want to be up to date with the latest and most accurate information in subjects ranging from finance, law, health/ pharmacy or marketing. ... More

 

PwC Romania awards top students in the third edition of the JumpStart Programme

[May-June-2013]

PwC Romania, through the PCS team and The Academy at PwC, awarded internship and Junior positions for top graduating students from the Economy and Business departments of some of the major Universities in Romania. This third edition of the JumpStart to Trusted Business Advisor took place in the Babeş-Bolyai University, Cluj-Napoca, the West University of Timisoara and Alexandru Ioan Cuza University, Iasi. Candidates were selected in collaboration with faculty members, based on their academic results. ...More

First Family Business Survey report for Romania launched in the Aula Magna of the Babeş-Bolyai University in Cluj-Napoca

[March-2013] 

Taking another important step in supporting entrepreneurship, PwC Romania joined the PwC Family Business Survey global initiative and this year we launched the first edition dedicated to entrepreneurs and family businesses in Romania... More

For the next generation: PwC Romania and Babeş-Bolyai University / Business Department launch "PwC – Entrepreneurship and Family Businesses" Chair

[March-2013] 

The Private Company Services team of PwC Romania, in partnership with Babeş-Bolyai University / Business Department in Cluj-Napoca, launched the "PwC – Entrepreneurship and Family Businesses" Chair - the first such Chair founded in Romania... More

PwC Romania tours the country within Business Days

[December-2012] 

"Where were you when I was small?" asked one of our biggest prospects at one point. Our partnership with Business Days gives us the opportunity to get to know small and medium-sized businesses while they are on their way to becoming one of the major players in their fields...More

PwC Romania honours Romanian "Champions in Business"

[November-2012] 

2012 is the year when we've taken our commitment to being trusted business advisors to Romanian entrepreneurs to a new level by joining Enterprise Investors, BCR, Ziarul Financiar and Triple Helix Foundation in discovering and rewarding the best Romanian businesses through the "Champions in business" initiative...More

PwC Romania Country Managing Partner awarded Professor Honoris Causa title for supporting entrepreneurship

[November-2012] 

Vasile Iuga, Country Managing Partner, PwC România was awarded the Professor Honoris Causa title by Babes-Bolyai University (UBB) in Cluj-Napoca, being nominated by the Faculty of Business. The title recognizes his contribution to developing entrepreneurship in Romania, as well as his role in strengthening the audit profession. This is the first such title awarded by the Faculty of Business within UBB. The acceptance ceremony took place in UBB's Aula Magna and was attended by academia as well as local entrepreneurs and representatives of the authorities.

Building a tradition - JumpStart at its second edition

[May-2012] 

For the second year in a row PwC Romania awards the best students from business schools throughout the country. This year The Academy at PwC team has joined the Private Company Services team in this programme which offers Internship & Junior Consultant positions in our offices in Romania (Bucharest, Cluj, Timisoara)...More

PwC Romania awarded by the Babeş-Bolyai University

[May-2012] 

We are proud to announce that PwC Romania has been awarded for its contribution to the development of Romanian entrepreneurship in the annual Business Awards ceremony organised by the Faculty of Business at Babeş-Bolyai University...More

 

"Success Formulas" takes Transylvania 

[January-2012] 

Regional Heroes, Industry Sharks, International Champions and Local Specialists have thrived during the crisis. They are companies that have found the best formulas to respond to change...More

 
 
---
PwC Romania celebrates the Champions in Business
[October-2013]
PwC Romania's Private Company Services (PCS) team has joined for the second time Enterprise Investors, BCR, the Triple Helix Foundation and Ziarul Financiar as partners for the 2013 edition of Campioni in Business project. The project is rewarding the most dynamic entrepreneurial companies, their success and their courage to invest and further on contribute to the development of the business environment in Romania.
The Champions have met and shared their success stories in a series of events that started with a regional conference in Cluj-Napoca and continued with a second one in Iasi. The project concluded with the Gala in Buchareston 4 November, including the award ceremony for the champions in Muntenia and the Entrepreneur of the Year Award.
The winners have been selected form the top 1,500 largest private owned companies, based on quantitative criteria (such as the dynamics of the turnover, gross profit and the number of employees) as well as qualitative criteria such as innovation and brand notoriety, CSR and environmental policies.
"Among the winners there are complex business, in agro-food industry, in high-tech industry (with software, electronics, aviation and defence companies) but also players in the energy, trade, transport, logistics fields and consumer goods producers. These entrepreneurial businesses deveoped over the last years and consistently performed in their area", said Vasile Iuga, Country Managing Partner, PwC Romania.
"The "engines" in 2012 were the retail companies with 19% growth in the turnover, energy (14%) and IT&C components companies (13%). This reveals the high potential of the Romanian capital as well as the adaptability and dynamics of the local entrepreneurial companies. Things might get better for the business environment in the coming year, with more available funds in the energy and other sectors. Still the business community needs a trustworthy framework to provide the basis for further development", said Ionut Simion, PCS Tax Leader.
---
Servicii integrate pentru antreprenori - Scurt ghid de exit
[September-2013]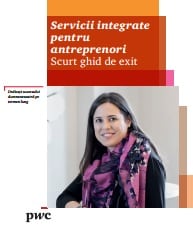 Încrederea este cuvântul cheie în orice relaţie de succes pe termen lung. Cu atât mai mult în relaţia dintre antreprenori şi consultanţi şi cu atât mai mult în momentul foarte important al deciziei de a vinde afacerea, după cum vom vedea în acest scurt ghid.
Noi, la PwC, ştim că o afacere de succes este mai mult decât suma tuturor părţilor. O afacere de succes înseamnă procese de business aliniate corect şi interese bine echilibrate, care conduc la o bună consolidare internă, la eficienţă operaţională şi la un grad mare de profitabilitate. Astfel, am dedicat timp şi resurse pentru a dezvolta o abordare specifică afacerilor antreprenoriale şi de familie, care are la bază înţelegerea cercurilor de interese care le influenţează.
---
The Academy @ PwC Romania launches video e-learning on ZFeLEARNING
[June-2013]
Ziarul Financiar launches e-learning platform in partnership with The Academy @ PwC, a partnership built on the foundation laid by our PCS team. The ZFeLEARNING platform is addressed to individuals committed to their personal and professional development and who want to be up to date with the latest and most accurate information in subjects ranging from finance, law, health/ pharmacy or marketing
The Academy at PwC is one of the main partners in the project and our team brings in their relevant expertise both in professional services and in training, ensuring a complete learning experience for the participants. Some examples of the tailored courses delivered are:
Fraudulent financial reporting
Deferred taxes: recognition and presentation, case-studies for Romania
Tax inspection – a minor inconvenient or a major problem?
Hedge accounting
Transfer pricing
Participants to the ZFeLEARNING courses will benefit from a flexible learning programme as the classes are split in modules of maximum 20-minutes . This particular format allows them to pause at any time, or to replay different segments, an option which offers the possibility to engage with the materials and to enjoy a more thorough learning experience. At the end of the learning modules, based on test results, participants will obtain a certificate issued by the content-development partner. Some of these certificates can be used as credit points for continuous professional development (CPD), recognized by professional organizations worldwide (ACCA, CAFR, CECCAR).
You can find out more on the registration process, course content and trainers by accessing http://www.zfelearning.ro .
---
PwC Romania awards top students in the third edition of the JumpStart Programme
[May-June-2013]
PwC Romania, through the PCS team and The Academy at PwC, awarded internship and Junior positions for top graduating students from the Economy and Business departments of some of the major Universities in Romania. This third edition of the JumpStart to Trusted Business Advisor took place in the Babeş-Bolyai University, Cluj-Napoca, the West University of Timisoara and Alexandru Ioan Cuza University, Iasi. Candidates were selected in collaboration with faculty members, based on their academic results.
"The programme is a tribute to our teachers, mentors and our role models. This is how PwC Romania understands to offer a chance to students with a solid education, doubled by an on-going desire to go beyond their limits." said Alexandru Medelan, Director, PCS Leader and founder of the JumpStart programme.
About JumpStart Jump
Start to Trusted Business Advisor initiated in 2011 by the Private Company Services and supported by the training centre (The Academy at PwC), reached its third edition during the 2012/2013 academic year. The Program is implemented in our partner universities in Cluj (Babes-Bolyai University), Timisoara (West University) and Iasi (Alexandru Ioan Cuza University) and it targets economics and business graduates, specifically third year students and master's students, also reaching a wider audience. The program offers the opportunity to work in one of PwC Romania's offices to some of the best students. They benefit from guidance, developing the knowledge and abilities they need in order to become a Trusted Business Advisor who understands the dynamics of the entrepreneurial environment and who can efficiently work with our clients.
---
First Family Business Survey report for Romania launched in the Aula Magna of the Babeş-Bolyai University in Cluj-Napoca
[March-2013] 
Taking another important step in supporting entrepreneurship, PwC Romania joined the PwC Family Business Survey global initiative and this year we launched the first edition dedicated to entrepreneurs and family businesses in Romania.

The launching event took place in Cluj-Napoca on 21 March, 2013 and was organized in partnership with the Babeş-Bolyai  / Business Department and Ziarul Financiar. The launching event took place in the beautiful Aula Magna , a symbol of the Babeş-Bolyai University, the oldest one in Romania, established in 1581. The event brought together more than 120 participants: entrepreneurs, top executives, authorities, members of the academia and young professionals. On this occasion, we gathered valuable opinions from our key-note speakers: Vasile Iuga, CMP PwC Romania, Maria Grapini, Minister of SMEs and six major entrepreneurs in Romania - Teofil Mureşan, Owner and CEO, Electrogroup; Vasile Puşcas PhD, member of the Board, Banca Transilvania; Ioan Popa, Owner and CEO, Transavia; Ion Sturza, manager of Fribourg Investments and GreenLight Invest Investment Funds; Ovidiu Turcu, Owner and CEO, OTC Group; Marius Bojiţă, PhD - reconfirming our survey's findings and generating a constructive debate around the main issues Romanian entrepreneurs and family businesses face.
Alexandru Medelean (Director, PCS Leader, PwC Romania), Mihai Aniţa (Partner, PCS Assurance Leader. PwC Romania) and Ionuţ Sas (Director, PCS Tax, PwC Romania ) presented the results of the first Family Business Survey in Romania. 


"At PwC we are invested in understanding and advising entrepreneurial families who have founded and developed some of the largest private companies in Romania. By joining the global PwC Family Business Survey we are now laying a new landmark and offering entrepreneurs and family businesses a new platform to share their views on economic trends and specific matters that influence their growth. At the same time, this initiative comes as recognition and appreciation of the distinctive role they play in making our economy dynamic and putting Romania on the world map as an important player", said Alexandru Medelean, Director within PwC Romania, Private Company Services (PCS) Leader.
---
For the next generation: PwC Romania and Babeş-Bolyai University Business Department launch "PwC – Entrepreneurship and Family Businesses" Chair
[March-2013] 
The Private Company Services team of PwC Romania, in partnership with Babeş-Bolyai University in Cluj-Napoca, launched the "PwC – Entrepreneurship and Family Businesses" Chair - the first such Chair founded in Romania. We took this opportunity to strengthen our partnership with the University's Business Department and launched the Chair together with the PwC Family Business Survey in Romania. Through these initiatives, we are hoping to offer not only a platform for sharing opinions and for encouraging constructive debates, but also for understanding how entrepreneurship and family businesses work.
This project, coordinated by Alexandru Medelean, Director within PwC Romania, Private Company Services (PCS) Leader and Dragoş Păun, PhD., the Business Department, Babeş-Bolyai University, aims to promote and support the entrepreneurial spirit and the specifics of family businesses among students and the business environment. Some of the planned activities include organizing workshops and debates, running market studies and analyses on entrepreneurship and family businesses, organizing conferences, post-graduate courses and summer schools, as well as supporting the "Entrepreneurship and Family Businesses" course – which will be included in the curriculum of the Business Department beginning with the 2013-2014 academic year.
"This Chair is not just a university course, but more of a communication platform and a connecting bridge between academia, society and family businesses. The success of this initiative will be equally dependent on the involvement of the Business Department of the Babes-Bolyai University on one hand, and of entrepreneurs and family businesses on the other", declared Alexandru Medelean, Director within PwC Romania, Private Company Services (PCS) Leader.
---
PwC Romania tours the country within Business Days
[December-2012] 
Our 2012 tour of the country with Business Days started in March in Timisoara, where we also launched the first strategy book published in Romania by a PwC team coordinated by Vasile Iuga and Andrej Vizjak - Success Formulas for the next decade. Companies that have overcome the crisis. The next event took us to Cluj-Napoca in June and then to Iasi in October, both offering great settings to get to know fast-growing local businesses and their owners. The tour ended in Bucharest in December, with the largest Business Days event so far, a vibrant series of conferences and workshops bringing together entrepreneurs, investors, consultants, bankers, all committed to supporting entrepreneurship in Romania.
---
PwC Romania honours Romanian "Champions in Business"
[November-2012] 
Our team started from a sample of 4,000 companies and developed the methodology to shortlist the respective companies, based on quantitative criteria such as the annual turnover, general solvability rate, and current liquidities, as well as qualitative indicators such as CSR and environmental policies, innovation and brand notoriety. In consultation with the other partners in the project, the winners for each of the three regions (Banat-Crisana, Moldova and Muntenia) were chosen from among those who stand as role models in developing entrepreneurial businesses as well as giving back to the communities they work in. The Champions were celebrated in three very well attended events, organised in Cluj-Napoca (18 October), Iasi (1 November) and the Gala in Bucharest (14 November).
"Entrepreneurs are the salt of the earth and we are honoured to be at their side when they develop outstanting businesses and put Romania on the map in world industry and trade", said Vasile Iuga, Country Managing Partner, PwC Romania. The Entrepreneur of the Year award went to Teofil Muresan of Electrogroup, one of the most innovative private businesses on the Romanian market.
---
Building a tradition - JumpStart at its second edition
[May-2012] 
For the second year in a row PwC Romania awards the best students from business schools throughout the country. This year The Academy at PwC team has joined the Private Company Services team in this programme which offers Internship & Junior Consultant positions in our offices in Romania (Bucharest, Cluj, Timisoara). The winners will fully benefit from professional training and guidance in developing the much needed abilities to become a trusted business advisor for the entrepreneurial and family businesses sector.
"I believe we managed to develop the first integrated approach for entrepreneurs and family businesses in Romania because we believed since the beginning in their role as an engine for economic and social growth. What we are looking for in the participants to the JumpStart programme is a desire to go beyond their limit combined with a solid education. We trust in the potential of young people and are glad to see that our cooperation with the Universities is becoming a tradition", said Alexandru Medelean, Director, PCS Leader, founder of the programme.
JumpStart to Trusted Business Advisor is implemented in Cluj (Babes-Bolyai University), Timisoara (West University) and Iasi (Alexandru Ioan Cuza University). The winners were announced during graduation ceremonies attended by hundreds of students, parents, alumni as well as important representatives of local business communities. The local press coverage contributed to increase brand awareness among these audiences and the larger public.
---
PwC Romania awarded by the Babeş-Bolyai University
[May-2012] 
We are proud to announce that PwC Romania has been awarded for its contribution to the development of Romanian entrepreneurship in the annual Business Awards ceremony organised by the Faculty of Business at Babeş-Bolyai University.
"Entrepreneurship and family businesses must be viewed differently for two main reasons: first, they are an engine of social and economic renewal, and secondly, from the point of view of management, they must be seen as an intersection between three interest circles: business, shareholders and the family. Receiving this award is a great recognition of PwC's constant efforts to build strong partnerships with Romanian entrepreneurial companies, investing in understanding their needs, in developing a long term relationship and assisting them in every stage of their development", stated Alexandru Medelean, Director within PwC Romania, Private Company Services (PCS) Leader.
The other Business Awards of the Faculty of Business went to:
Transavia SRL – strongest company in the FMCG sector;
Daw Benta Romania- the most successful family joint-venture;
Daksa Eco – Equestrian Center – creativity in eco-tourism;
Fujikura Automotive SRL – foreign investment in Romania;
Hotel Grand Italia – best hotel investment;
Proplanta SRL – excellence in product innovation;
Farmec SA – the most competitive company in the cosmetics industry;
Rombat SA – competitiveness on export markets;
PhD professor – Ioan Aurel Giurgiu – the award for academic activity;
"To receive this award alongside such important local companies as Rombat, Daw Benta Romania and Transavia, which also happen to be our clients, is an even greater honour", added Medelean.
"Success Formulas" takes Transylvania
[January-2012] 
Regional Heroes, Industry Sharks, International Champions and Local Specialists have thrived during the crisis. They are companies that have found the best formulas to respond to change. Companies that did not only learn new tactics and play the new game swiftly, but also fostered innovative growth strategy models.
On 31 January, 2012, PwC Romania attuned to the business heart of Transylvania once again and launched in Cluj-Napoca the strategy book "Success Formulas for the Next Decade" in an event hosted by our close partners from the Business Faculty of the Babes-Bolyai University.
"Many companies were hit by the first tidal wave of the crisis, but the second will find them much more stable. Every crisis has its winners and losers, the latter being those without a well-defined strategy. In an economic boom everyone fares well. We all want to swim in a blue ocean that we can enjoy, but the reality is that we are now in a bloody one, along sharks and barracudas", said PwC Romania CMP Vasile Iuga who co-authored the book with Andrej Vizjak, Advisory Partner and South-Eastern Europe Consulting Leader. He was joined on the speakers' panel by host Andrei Marga, Rector of Babes-Bolyai University, Cristian Chifu, Dean of the Faculty of Business, Marius Gavriletea, Professor with the Faculty of Business and Bogdan Belciu, PwC Advisory Partner - who explained the specifics of more agile strategies companies can adopt to win in the downturn. Guest speakers, Daniel Malutan (CSi) and Florin Pop (Energobit), showed how the companies they lead navigated the troubled waters of the last three years and praised the contribution of "Success Formulas" to the Romanian business literature.